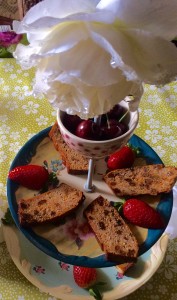 This Paleo carrot and sultana loaf is wheat free, gluten free, dairy free…..oh and it tastes rather yummy too!
i am often trying out recipes for sweet- ish foods as I have a sweet tooth and this loaf really hits the spot…….i hope you enjoy it too….
INGREDIENTS
6 large free range eggs
3 cups grated organic carrots ( about 4 large or 5 medium carrots)
1/3 cup sultanas
2 large desert spoons of coconut oil ( melted)
2 tablespoons raw (unpasturised) honey
3/4 cup coconut flour
1 teaspoon baking powder
A Pinch of himalayan salt
2 teaspoons of cinnamon
1/2 teaspoon cloves
You can use Chinese 5 spice if you prefer, alter to suit your taste.
DIRECTIONS
Beat all the eggs together in a large mixing bowl.
Sieve in the coconut flour , cinnamon, cloves, and baking powder.
Add melted coconut oil and salt to the above mixture .
Whisk it all up until there are no lumpy bits.
Add carrot and sultanas and fold into the mix.
pour into a bread mould and cook at about 180c for approx 30-40 mins (use a skewer to check the bread is cooked through).
Serve + enjoy = That's it!
ps – I love it with cream cheese with honey melted on top but add your own topping to suit.
If you like the blogs then please take a minute to like our Facebook page peaceofmindhealth which will then ensure you get the feeds for our latest blogs . Please also share our blogs and feeds with your facebook friends or anyone who you feel may benefit from our therapies too.
Many thanks for reading
Have an amazing day.
Be free…Be happy!
Jeni
e mail : peaceofmindhealth@gmail.com