Hi All,
Welcome back to our blog. Finding Meaning. 
Everything we do is determined by how we are within our own minds.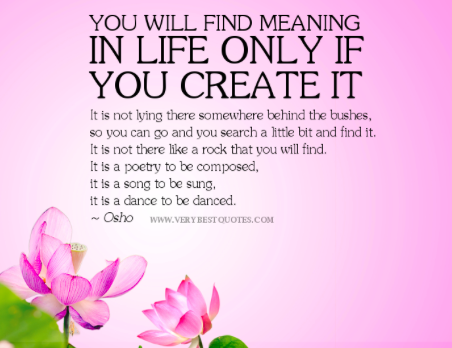 We can go to the most beautiful places , have extravagant lifestyles , live in luxury and still not achieve any depth of meaning .
If our mind is without meaning then every experience will seem shallow , and any pleasure will be get will be fleeting . We may find ourself then chasing and craving more stimulation to settle our unsatisfied minds.
However when we have a mind that can develop meaning then even the smallest or most mundane of actions will generate a positive feeling within us .
For example if we can develop a feeling of meaning in washing as an act of self care,  Ironing as caring for others  and cleaning our home is caring for our surroundings. This is beginning a wish to create and finding meaning into ordinary things. 
If we choose to set our  daily intentions in this way then finding meaning in  everything can bring a peaceful mind .
Thank you for reading.
Jeni
If you would like any more information about how Shamanic Healing, Life Coaching, Spiritual Coaching, Soul Journey Work or any other therapy can help you then please do contact me.
tel : 07531 191 688
Check out my webpage for discounted offers to help you during these difficult times.
Connect to my Facebook page to spread the inspiring ways of living.