Hi All,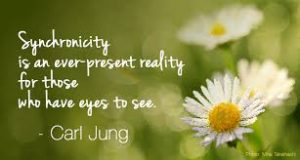 Do you ever have those days where everything is Synchronicity and you are left in awe of the experience.
Today I have been as always working with clients. One of my clients when telling her story. This gave me the insights into what her limiting blocks are basically by telling me the story of my life.
Everything was like looking in a mirror as she shared her family constellations, her relationship patterns, her limiting beliefs , existential beliefs right down to who she is as a person and what her role in life is.
When these extraordinary things happen , firstly it is important to remember that it is not MY story.
Now with my psychotherapy hat on of course there is an element of transference and potentially counter transference and it is always important to ensure that the client does not become a 'template' of my own life.
This is why I LOVE the work I do as with my Shamanic Practitioner hat on.
I can work VERY differently – Synchronicity
Working in a Shamanic way allows us to work in a broader way . We are working both consciously and then also at a much deeper level of the deep subconscious to help clearing and updating the programmes of the power losses which eventually lead to physical ill health.
Looking at the relevance of the synchronicity of this information with a clear mind allows the event and the signs to be acknowledged. The client can then find their healing through the shamanic process, and reconnect with the disassociated parts of self . This allows them to journey and then rapidly move forward without lengthy sessions.
From a Shamanic perspective the stories of our lives are important.
Just because we are in a therapeutic setting there is no difference, Our stories empower others, they are another tool. The stories serve as a metaphor to gain insights and insights are a suggestion or signpost for clearing blocks.
Thank you for reading.
If you would like any more information about how Shamanic Healing, Soul Retrieval or any of my other work can help you , then please do contact me.
Jeni
e:peaceofmindhealth@gmail.com
tel : 07531 191 688