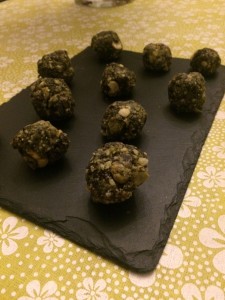 Hi All, Welcome back to our blog – Himalayan Salt + Cacao Quinoa Energy Balls.
This week i have been trying to focus on health after an indulgent holiday . 
This found me looking at some old recipes and i  remembered how much i used to love these Himalayan salt and Cacao Quinoa Energy Balls. 
These are so scrummy and filled with antioxidant health benefits and only take about 10 minutes to make so i thought i would share with you all.
Himalayan Salt And Cacao Quinoa Energy Ball
Ingredients
1 1/2 cups medjool dates, pitted (about 15)
1 cup walnuts (or nuts of your choice , pecans are also yummy)
3 tablespoons raw cacao powder
1 tablespoon almond butter (or another nut butter of your choice)
1 tablespoon raw honey (or you could use maple syrup)
1/4 teaspoon Himalayan salt
1/4 teaspoon cinnamon
1/2 cup quinoa cooked
1 tablespoon raw cacao powder
a little Himalayan salt to garnish and cacao to dust.
Instructions :
Firstly add dates to a food processor. Process until broken apart and sticky (about 30 seconds). 
Then add walnuts (o your chosen nuts) and process until ground and evenly distributed in with  the dates.
Then add the remaining ingredients and process until a dough begins to form. You should be able to pinch it between your fingers and it will stay together. 
Roll into balls and dust with cacao and salt. 
Leave in the fridge or freeze unless , like me , you cant resist eating them immediately!
Enjoy.
Thank you for reading.
If you would like any more information about how nutritional support or any of my other work can help you , then please do contact me.
Jeni
e:peaceofmindhealth@gmail.com
tel : 07531 191 688