Hi All, Welcome back to our blog. Why we should all love Carnations.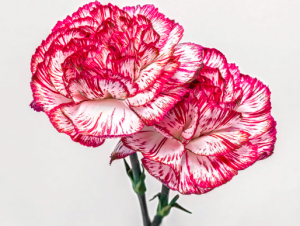 I remember a friend saying to me once how much they hated carnations.
It seemed like such an odd perspective to have on what i perceive as an incredibly beautiful flower and so i asked my friend why they hated this flower so.
Their reply "i feel like they are cheap and people are being cheap when they give them to me".
Isn't it interesting how we form opinions and judgements and then attach them to innocent things.
Instead of seeing the many precious and positive aspects , every time this person receives a bunch of carnations they instead will be tainted with a negative view of the situation, the gift, the sender, the flower and its abundant long lasting energy within their home .
They will miss the meaning, the love the connection to people and plant because they are instead stuck on the thought that it is cheap and so the meaning behind it must be cheap !
Isn't life like that a lot ?
We spend so much of our time in a limiting world view that we miss the the joy,  the light,  the pleasure and the gifts within each of our moments.
When we judge a situation we do not allow the abundance and magic of the situation to manifest. We instead poison ourselves with toxic energy, thought and we are attaching negativity into our energy field and our body.
If we can see every situation and treat it with love , even when we do not understand it then our lives will be lighter. We will be lighter beings.
When we perceive the world in a problematic or negative way it is a symptom of lack of love. A loveless perception is the root of many problems.
Because it really isn't about carnations …..its about us !
Check out my webpage for discounted offers to help you during these difficult times.
Thank you for reading.
If you would like any more information about how Shamanic Healing, Life Coaching, Spiritual Counselling, Soul Journey Work or any of my workshops can help you , then please do contact me.
Jeni
e:peaceofmindhealth@gmail.com
tel : 07531 191 688