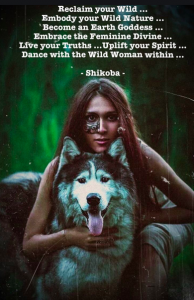 Hi All, Welcome back to our blog – Wild Woman Within.
As we begin a new decade it has had me reflecting on the past decade and myself, my growth to who and what i am today.
Who I am as a woman and a guide is down to the ability to be fully present within my own life as a human and be able to accept who i am and work towards healing the things that help me to fully move me towards living free….a WILD woman, a FREE woman.
I have climbed the ladders in the corporate world, flown to exotic and far flung places, become financially free and achieved all the things that the world taught me defined 'success'….and yet the wild woman within me was not present.
She was restrained ,fitting in , having to look a certain way, be a certain weight and wear this seasons collections!
Somewhere deep within i must have heard the wild woman within whispering her discontent as she paced within me.
Those designer shoes simply did not fit right , no matter the cost.
She longed for bare feet, dirty soles on the earth.
She dreamed of a drumbeat in a wild place where she was free to move her body however she chose without it being a signal for anything other than what she commanded it be.
She hoped one day to catch herself naked under the moonlight. To dance beneath its silvery glow.
She prayed that the elementals would still be there awaiting for her at the edge of the woods , at the time of betwixt and between.
Thankfully i heard her….
This stirring within me led me to question myself, my world , my life experiences and the oppression women face that suppressed the Wild Woman Within.
So i basically spent the past decade learning from pretty much every modality that the universe put my way!
My journey has included Hypnotherapy, Life coaching, Shamanic Healing, Meditation, Kinesiology, Ecstatic dance, Theta Healing, EFT, Arvigo Womb Massage (to name a few!!!).
Some of these were so transformative that i went on to train in them.
Why?
I've trained in the things I thought were really powerful and as a result i have an extensive toolbox which allows my work to be truly personal.
But what I also bring is me, i am so passionate about sharing my work and what i have learned.
I still have work to do with myself, lifetimes of oppression being undone knot by knot. however i am so blessed to be reconnected to my Wild Woman Within and i look forward to sharing this liberating body of work with you too.
Thank you for reading.
If you would like any more information about how Shamanic Healing, Womb Work, Soul journey, E.F.T / Matrix Re-Imprinting, Clinical Hypnotherapy or any of my other work can help you, then please do contact me.
Jeni
e:peaceofmindhealth@gmail.com
tel : 07531 191 688