HAPPY OSTARA – Using OSTARA Abundance.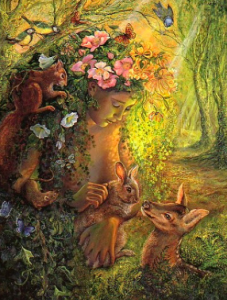 Hi all,
I really love this time of year, the Spring Equinox or Ostara.
In nature it is the time of fertile soil as the land starts to grow from its seed. It is the return of the warmth of the energy of the sunlight and the longer days.
Everything starts to spring to life!
It is also the time of the Maiden Archetype and the goddess power comes from the youthful energy that the maiden brings . The maiden archetype is part of the triple goddess energy. This powerful energy can be used by setting intentions or holding a ceremony to draw in what you want to give birth or life or creative youthful energy to.
Take some time to observe nature and be mindful of the magic within nature and see the land coming to life.
Are the worms emerging from the earth? (The March Full Moon is called the 'FULL WORM MOON').

You may notice the crowning of the daffodils and the bloom of the crocus. This us also a nod from nature to plant other things for a later harvest.

Listen to the birds as the dawn chorus seems more vibrant with the emerging sunshine.
I love this fertile time and use it to begin to plant seeds of my own. I am excited already in the planting as I reflect upon what I wanted to manifest more of last Ostara. Last year the seeds were ceremoniously set at Ostara. I used Shamanic Journeying to advise me how to plant the right seeds . This energy work was set with a specific intention. I set seeds to allow my work to flow and open up much more dynamically specifically with the work that feels most natural to me.
Just one full cycle layer and i am inundated with Gynocentric Shamanic Work. This work is where i belong and i feel totally abundant within what has been 'birthed ' from last year to now. 
There are so many ways you can have fun with Ostara, look at the ceremonies i did last year for some tips .
If you want to make some life changes then you may want to invest a little of your time and energy into a practitioner who is abundant in this field of work….but hey, just play too.
Enjoy!
Happy Equinox.
Thank you for reading.
If you would like any more information about how Shamanic Work, Life Coaching, Spiritual Coaching or any of my other work can help you , then please do contact me.
Jeni
e:peaceofmindhealth@gmail.com
tel : 07531 191 688