Hi All,
Welcome back to our blog. Quotes For Practicing Positivity.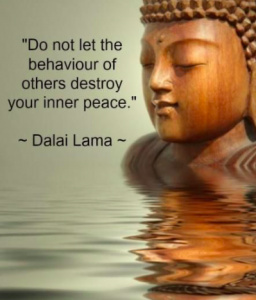 I have always found the Dalai Lama such a fascination and an inspirational role model. Here is a man who has been faced with some extreme challenges within his own life and yet he has such a wonderful capacity to remain calm in the face of adversity.
If we can adopt a practice within our own lives that can keep our emotional mind calm then this enables us to have a wider appreciation of life .
When we sit from this view point of acceptance of what we can solve or change and acceptance of what we cannot solve or change then we are more likely to be at peace.
The Dalai Lama really has many wise words which i find really useful in my daily practice.
Here are some of those Quotes for practicing positivity;
* If you want others to be happy, practice compassion. If you want to be happy, practice compassion.
* My religion is very simple. My religion is kindness.
* Happiness is not something ready-made. It comes from your own actions.
* We can never obtain peace in the outer world until we make peace with ourselves.
* If you can, help others; if you cannot do that, at least do not harm them.
* Be kind whenever possible. It is always possible.
* If you can solve your problem, then what is the need of worrying? If you cannot solve it, then what is the use of worrying?
I hope these insights inspire your day and bring you peace of mind.
Check out my webpage for discounted offers to help you during these difficult times.
Thank you for reading.
If you would like any more information about how Shamanic Healing, Life Coaching, Spiritual Coaching, Soul Journey Work or any of my workshops can help you , then please do contact me.
Jeni
e:peaceofmindhealth@gmail.com
tel : 07531 191 688