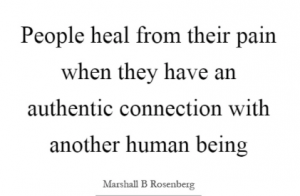 Hi All, Welcome back to our blog – The Importance of Connection.
At the time of writing this April 2020 we are in a Coronavirus Lockdown. This got me thinking about the importance of connection.
Research has shown us that over the last decade as social media has grown so have the cases of depression. As well as, suicides, anxiety, isolation and feeling lonely.
Over the last decade we have gotten used to connecting with each other in a very different way. Because it was such a gradual and convenient shift we haven't really stopped to think about where we lost connection.
That is until it was taken away from us.
Just think about this ;
Over the last decade we have got used to substituting the telephone call for a text.
Over the last decade we pinged our news over to friendship or family groups over whats up groups.
Over the last decade we got used to seeing big events announced on social media platforms (i.e. the birth of a baby).
We got so used to this form of connection. Our minds now process a belief that when we see pictures of each other on social media we actually believe that we have a recent 'connection'.
Our minds are presenting us with a mistaken belief which is gift wrapped up as a synthetic diluted version of connection. Our minds process a version of the event, but we are not present in the event.
Why is this a problem?
When we are not totally present and connected to our interactions then we are not generating the same feelings on a biochemical level.
Studies have shown us that when we are able to see someones face it generates feelings and emotions which anchor in connectedness. When we are talking face to face the body generates endorphins, oxytocin etc . These hormones are not activated when we use a form of contact that has not facial presence.
These hormones rise significantly higher is we hug, kiss etc on top of the facial recognition.
Is it any wonder that suicide, depression , loneliness etc is at such a high.
The whole world has slowly forgotten what connection and being present in anything really means.
So where we are right now these things become a lifeline as we have enforced social disconnect.
However when we move back into the world i hope we learn the value of connectedness and take it into our hearts and cherish it for what it is.
If we can take a little more time in our lives to be present in the importance of connection then i believe that those rates of depression , suicide and feeling lonely will decline.
Coronavirus is a platform of opportunity for us to reevaluate our lives
In our place of lockdown we are learning to come together again using face to face platforms (facetime, zoom , houseparty etc) over whats up group chats.
If we can be aware of this and change our habits to allow this to continue we have the ability to still be face to face connected even when we cannot all meet. So in a nutshell zoom and facetime are better for your health than a text or whats app message.
In our place of lockdown we are checking in with our isolated and elderly neighbours and offering help. Can we extend this back into our lives again and stay connected and aware of others needs to prevent feelings of loneliness or feeling suicidal.
In our place of lockdown we reconnect within our own households. Parents teach children , create , invent and take exercise together . Isn't this why you had a family , because you wanted a group connection. Isn't the joy of creative play with your children better for you all than them getting that from somewhere else?
In our place of lockdown we remember how precious connection because we have lost it.
The next decade can be a great opportunity for us to reconnect, to let go a little more of the synthetic version connection and aim for the real , present first hand original connection.
Check out my webpage for discounted offers to help you during these difficult times.
Thank you for reading.
If you would like any more information about how Shamanic Healing, Life Coaching, Spiritual Coaching, Soul Journey Work E.F.T / Matrix Re-Imprinting , Clinical Hypnotherapy or any of my other work can help you , then please do contact me.
Jeni
e:peaceofmindhealth@gmail.com
tel : 07531 191 688
I am offering free daily lunchtime meditation sessions for you to teach practical tools to help you during this difficult time. Just e mail me if you want the link to join the zoom group.